The better an instrument sounds, the more it inspires you
Yamaha has a proud history of manufacturing just about every kind of musical instrument. When it comes to reproducing the sound of these instruments in a keyboard, the results are detailed and high-quality.
PSR-EW410 features a comprehensive library of 758 instrument Voices that will allow you to enjoy playing any musical genre.
Functions
High power performance
12W + 12W amplifiers drive the high-definition 12cm bass reflex speakers, offering stunning clarity and detail.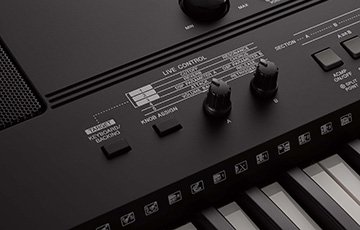 Intuitive "Live Control Knob" interface
Change sounds on-the-fly by switching the effect destination!
Two assignable, real-time control knobs let you filter and adjust your sound just like an analog synthesizer.
10 DSP effects can be assigned and controlled by the knobs for dynamic and expressive live performance.
The Pitch Bend wheel adjusts the pitch of the sound bringing Voices like the Guitar, Sax and Trumpet to life.
Target button supports quick target change of effect destination.
Connect to portable devices or computers for even more fun
PSR-EW410 features digital audio transfer through the USB TO HOST terminal*. You can record your performances to your computer or smart device.
Connecting to your iOS device adds a new dimension of MIDI control with apps.
Connect an external audio player to the AUX-In jack and you can play along with your favorite tunes. The built-in advanced Melody Suppressor lowers the volume of vocals and melody lines of the original recordings, leaving that part open for you to play or sing**.
*For iOS device connection, refer to the "iPhone / iPad Connection Manual"
**Depending on the song, the volume of the melody part may not be affected.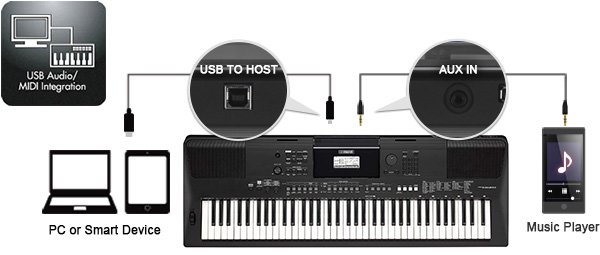 PSR-EW410 is an ideal 76-note keyboard for performing various styles of music, from the latest hits to vinyl favorites, featuring a high-res piano sample, powerful on-board speakers and easy-to-use professional features like assignable Live Control knobs, Quick Sampling, Groove Creator, USB Audio Recorder and optional subwoofer.
758 high quality voices including Live!, Sweet! and Cool! voices, with 48-note polyphony
Quick Sampling function – 5 sample (1 Key Follow type + 4 One shot/Loop type) Max 9.6 sec/sample
Groove Creator function – 35 grooves, 5 sections(4 main +1 Musical Climax)
235 auto accompaniment Styles
USB Audio Recorder – 80 minutes. (.wav)
12W + 12W amplifiers with 12 cm Bass Reflexed speakers
Assignable real-time Control Knobs, DSP Effects, and Pitch Bend
Connectivity with audio and MIDI capabilities
USB TO DEVICE terminal
AUX IN for connecting and playing along with your favorite music
Arpeggio function
Worldwide sounds support multiple kinds of music