Digital Heart. Analog Soul.
Yamaha has provided an impressive range of lineups in professional audio since the release of the PM200 in 1972 – our first ever professional analog mixing console. In 1987, we also released our first digital mixer, the DMP7, and have subsequently advanced technological innovations in sound quality, reliability and advanced functionalities with cutting-edge digital technologies.
Drawing from our decades of experience crafting innovative, premium analog gear, we originally developed our new discrete Class-A microphone preamps for professional use in our high-end recording equipment. Utilizing an inverted Darlington circuit design, our newly-refined D-PRE mic preamps deliver a fat, rich, smooth tone that gives the MGP Series a significant advantage over any other mixer in its class. With Yamaha's proprietary X-pressive EQ we've managed to capture ultimate analog authenticity by unlocking the mysterious secret behind the expressive sound shaping capabilities of sought-after classic EQ modules.
At the heart of the MGP's compact configuration, we've taken an innovative new approach to the utilization of digital technology in an analog mixer; adding high-resolution effects, iPod/iPhone integration and the superb functionality of our new Stereo Hybrid Channel to the warmth and musicality of premium analog sound. The MGP Series represents the ultimate balance of the converging technologies that are the heart and soul of Yamaha's extraordinary achievements in professional audio.
When it comes to audio engineering and sound reinforcement, the verdict is in—nothing beats the warmth and musicality of analog sound. By incorporating state-of-the-art digital technologies into the development process of our premium professional analog equipment, the MGP is the next step in the evolution of compact professional mixers.

D-PRE
The preamp is where sound creation begins, and ultimately determines the character and quality of your overall mix. The importance of this critical first step inspired us to develop the most fat and warm sounding preamps possible—our newly refined D-PRE mic preamps. Initially intended for use with Yamaha's high-end recording gear, these studio-grade, discrete Class-A mic preamps employ an inverted Darlington circuit design that features multiple circuitry elements in a multi-layered configuration in order to deliver more power with lower impedance. This means all the character, depth and feel of your original signal will be delivered with fat, natural sounding bass and smooth, soaring highs. Rediscover a favourite mic or trusted instrument by capturing the full range of your musical expression with sound that you don't hear, so much as feel. With 48V phantom power for each channel and a sound that is incomparable in a compact mixer today, these studio-grade discrete Class-A mic preamps set the MGP apart, clearly defining a class all its own.
X-pressive EQ
Everyone knows vintage EQ sounds great—but not everyone knows why. Throughout the development of the innovative VCM (Virtual Circuit Modeling) effects used in our high-end professional digital mixers, we became increasingly focused on reproducing the warmth and musicality of classic vintage EQs. It was through our precise modeling of the original circuitry of some of the most sought-after EQ modules from the past that we discovered a characteristic "X-shape" of the frequency curves that was unique to these units— and would ultimately prove essential to unlocking real vintage authenticity. More than just a means of tweaking your mix, the precise response and very steep shelving of the high and low frequencies make the X-pressive EQ a powerful sound-shaping tool that essentially redefines the role that EQ plays in sound reinforcement. Never before has an audio engineer's contribution to the overall sound been so significant, with X-pressive EQ providing complete control of every aspect of your sonic palette.
1-Knob Compressors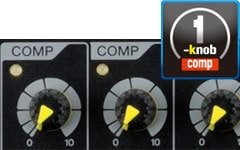 Originally a Yamaha innovation, 1-knob compression is now a popular feature on an increasing number of compact mixing consoles with good reason. These intelligent compressors add optimally set compression to a wide variety of input sources with the touch of a single control—minus the hassle of setting up and configuring complex outboard gear. The MGP features our newly upgraded 1-knob compressors that feature LED indicators allowing you to visually monitor when the compression "kicks in" on each channel.
Integrated Rack Ears (MGP16X/12X)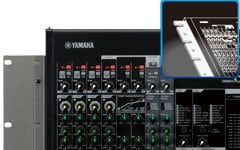 With integrated rack ears, the MGP easily meets the demands of both installed and portable applications providing safe, stable protection for your console. Extremely durable, their sleek, attractive design instantly gives you the option of a rack-mounted or desk-top configuration, with hassle-free setup saving you time and effort.
Internal Universal Power Supply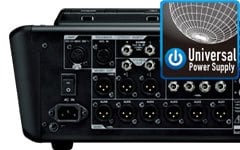 You can plug in with confidence in any region with 100V-240V power thanks to our highly-efficient internal universal power supply. With its multi-voltage design, the MGP ensures worry-free operation in potentially damaging environments with fluctuating power levels. An Internal power supply also simplifies rack mounting of the console at installed applications, with no use for a bulky adapter or additional connections.
The MGP is the realization of a new approach towards the utilization of digital technologies in a mixer, offering simple, analog-style control of sophisticated DSP functions. One of the most compelling features of analog gear is the direct, hands-on, intuitive operation that unites the operator with the console. The MGP sought to keep this feel consistent throughout the design to offer a wealth of functionality, yet with a simple, familiar touch.

6 Mic Inputs with 48V Phantom Power and HPF per Channel
12 Line Inputs (4 mono and 4 stereo)
2 AUX Sends + 2 FX Sends
4 GROUP Buses + ST Bus