The ideal introductory synthesizer, with a simple – yet powerful – polyphonic analog sound engine and loop sequencer
Volca Keys is a long-awaited synthesizer that adds a new chapter to the long and storied history of Korg's analog synthesizers. Volca keys is a 27-key analog lead synth that generates unbelievably powerful sound from its compact body. Starting with a filter section that uses the circuitry of the legendary miniKORG700S (1974), it delivers astonishing sound that takes full advantage of Korg's half-century of know-how in circuit design.
With a simple structure that includes delay effect and a sequencer, it's also an ideal choice as a first analog synth. It offers the richly expressive sounds that are distinctive of an analog synth, providing the enjoyment of simple yet deep sound-creation.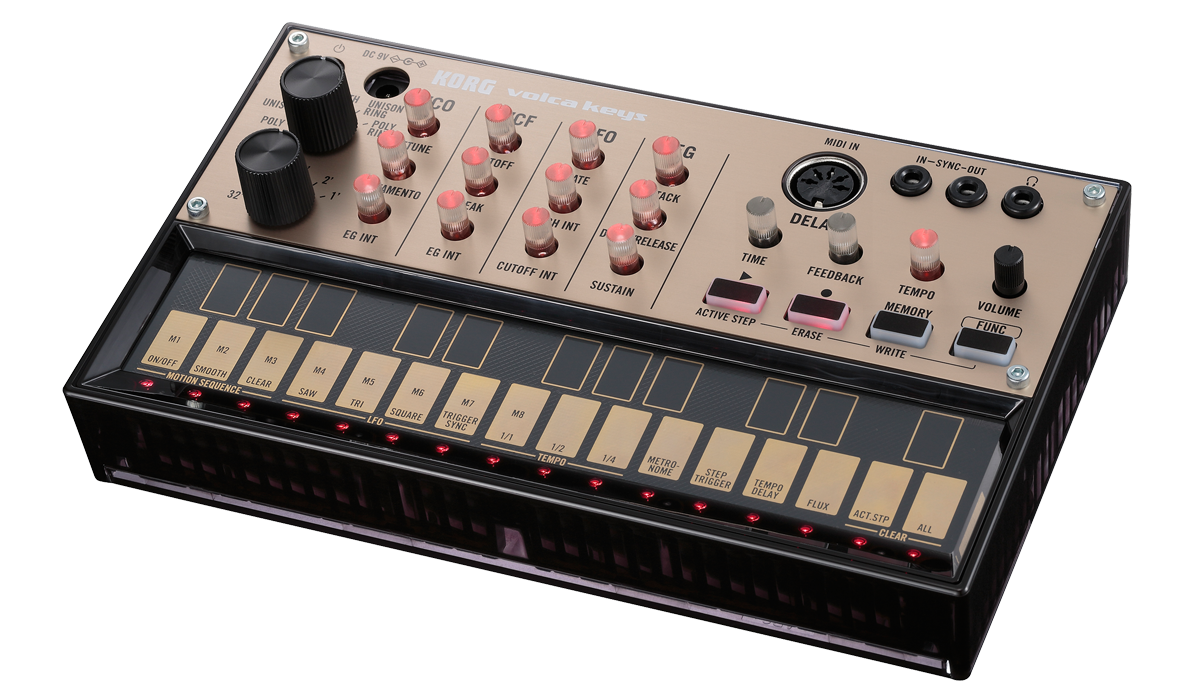 The polyphonic synthesizer you've been waiting for
・Simple three-voice analog synthesizer
・Voicing function lets anyone create sounds easily
・Delay effect for even more sonic possibilities
Simple loop sequencer
・Loop sequencer lets you record phases just as you play them
・ Use the Motion Sequence function to meticulously craft your loops
・Use the Active Step function and Flux function to add dynamic change to your sequences
Convenient functions for tremendous ease of use
・Self-tuning function overcomes pitch drift – the weak point of an analog synth
・SYNC jack and MIDI IN connector allow synchronized performances with multiple units or with your DAW
・Compact size, battery-powered operation, and built-in speaker for enjoyment anywhere
Three true-analog synthesizers with built-in sequencers to generate the ultimate analog leads, basses, or rhythms
Following in the footsteps of the monotron, monotribe, and MS-20 Mini analog synthesizers, Korg announces the Volca series. Volca is a new lineup of EDM production tools comprised of three distinct models: the Volca Keys lead synthesizer, the volca Bass synthesizer, and the Volca Beats rhythm machine. These powerful and fun-to-use true-analog devices deliver a diverse array of fat sounds that can be obtained only from an analog synthesizer. Each is also equipped with sequencing/recording capabilities for intuitively generating performances. Multiple volcas can be used in tandem via the vintage-style sync in/out, and with your favorite DAW software or MIDI keyboard via MIDI In. Battery operation and built-in speakers mean that you can conveniently play anywhere and anytime. These are the next-generation analog synthesizers, bringing you the ultimate sounds and grooves with ease and depth. Whether used together or by themselves, the volca series is poised to inject true analog power into any performance or studio setup!