Silent functionality has been added to the GC2, a piano with a larger footprint and an affordable price, making it a very popular size instrument. With a superb sound and excellent resonance, the GC2 is a delight to play. This is an SH-type Silent piano™ with a CFX sound source.
– 19 tonal colors
19 voices, including harpsichord, pipe organ strings, celesta and jazz organ provide a wide range of musical expression.
– CFX Binaural Sampling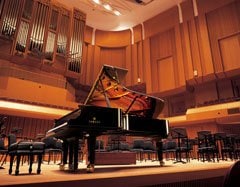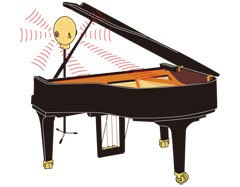 – For the first time ever the Silent Piano™ offers sound sampled from the Yamaha CFX full concert grand piano, supporting the beauty of its clear, vivid tones with the power of this renowned instrument.
– Yamaha's first model with binaural sampling system, enabling reproduction of natural and three-dimensional sound.
[ Binaural sampling system ]
A recording system in which microphones are installed in the ears of a dummy (see diagram) so that the sound can be reproduced the way it is heard by the player.
– When playing in "Silent" mode, the player feels as though the CFX sounds are coming directly from the piano.
– Equipped with AUX and MIDI terminals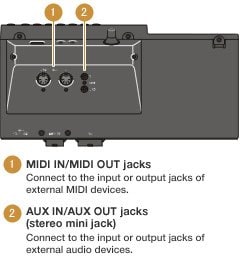 – AUX and MIDI terminals allow the sound to be output to a variety of external devices (e.g. stereo components, IC recorders, speakers with built-in amplifiers, stereo systems).
– Connecting SH type pianos to external devices such as sound source modules and music players (CD players etc.) via AUX IN terminals allows players to listen to the sound from these external devices on the headphones while they play the piano.
– Connecting MIDI devices such as synthesizers to SH type pianos via MIDI OUTPUT terminals allows players to transmit performance information to external devices for playback.
– Connecting music sequencers to SH type pianos via MIDI IN terminals allows the players to receive and play back the performance information provided by the sequencers using the sound source of SH type pianos.
– Four types of piano effects for reproducing sounds that are characteristic of acoustic performance
– String resonance: Reproduces the expressive tonal colors that are created as strings hit by hammers resonate with other strings.
– Key-off sampling: Reproduces the subtle changes of sound that occur when the damper touches the strings.
– Sustain sampling: Records the rich sounds that are generated as the player depresses a pedal during performance.
– Damper resonance: Reproduces the deep and expansive resonance that is generated when the player depresses a pedal. Subtle changes in nuance that occur during the performance can be reproduced faithfully.
– Hammer sensors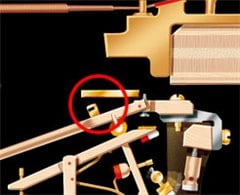 Yamaha's Silent Piano™ are fitted with hammer sensors that allow even slow keystrokes or rapid trills that would be difficult for key sensors to detect to be read accurately. To ensure that they do not affect the feel of the keyboard in any way, Yamaha uses non-contact sensors.
– Key sensors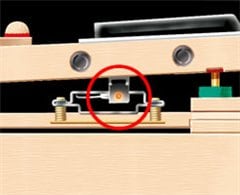 Under each of the 88 keys is a Yamaha-unique continuous-detection grey-scale shutter key sensor. These sensors detect the movement of the keys continually, allowing natural musical expression even when the piano is in "Silent" mode. Since they do not come into contact with the keys, these sensors do not affect the feel of the keyboard in any way.
– Large capacity (256MB) of wave memory
This increase in memory capacity enables the SH type to reproduce even the subtle difference in nuances brought by key touch and thus significantly increases the expressivity of performance.
– Maximum simultaneous polyphony of 256 notes
The maximum simultaneous polyphony on the SH type is 256 notes. With the increase in maximum simultaneous polyphony CFX sampling and piano effects can be utilized more effectively for enhanced precision in sound reproduction.
– Metronome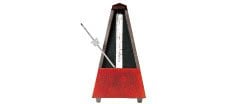 The SH type has a built-in metronome that can be used in "Silent" mode so that players can listen to precise rhythm through headphones while they play.
– Newly fitted with speaker output function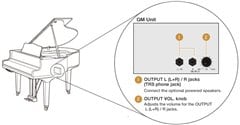 – Speaker output terminals have been newly added to the GM unit installed at the bottom of the tenor section of SH type pianos. By connecting speakers equipped with built-in amplifiers to these output terminals, the performance conducted in "Silent" mode can be output through the speakers.
– Speaker output terminals also support TRS phone jacks, which are highly noise-resistant and thus suitable for use in music performances, such as those on stages, that require long cables.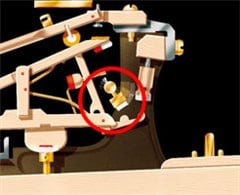 Silent Piano™ features a quick escape system that allows the sound muting mechanism to be fitted to a grand piano without sacrificing any of the playability or musical expression demanded of such instruments in an acoustic performance. This system allows optimal separation to be obtained between the hammers and strings by adjusting the distance between the hammers and strings, ensuring that the feel of the keyboard stays in the best possible condition whether playing acoustically or with the sound muted.
– Simple and easy switching to "Silent" mode with the press of a button
While conventional grand Silent Piano™ require lever operation for switching to "Silent" mode, SH type Silent Piano™ do it all via motor activation with a single press of a button.
– Two recording systems (Built-in recorder and USB audio recorder)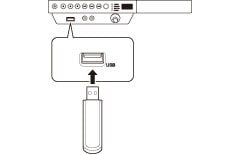 – The performance can be recorded in two different ways. It can be recorded either directly to the built-in recorder of a piano, or to a USB audio recorder, in which case the data stored in USB flash memory in WAV format can be played on a PC as well.
– Using a built-in recorder is more convenient if the players wish to listen to the recorded piece right away. It allows them to listen to the entire performance of a music piece or to go back and listen to a particular section of the piece.
– Since performances are saved in WAV format with a USB audio recorder, they can be recorded onto CDs or played on portable music players.
– User-friendly control panel

Blue-lit control buttons on the front panel are easy to identify and provide superb operability. Moreover custom-made white pianos come with white control units.
Exclusive functions and superb operability of the SH type
Open headphones and a variety of connection terminals
Realistic tonal color for faithful reproduction
Unique Yamaha technology retains the all-important touch of the grand piano
Yamaha Silent Piano™ features a range of unique technologies that allow them to offer a touch that is astonishingly close to that of an acoustic grand piano even when in "Silent" mode.