KORG MA-1 BLUE, BLACK/ BLACK, RED
The standard in compact metronomes
The MA-1, available in your choice of colors
The MA-1 is a compact metronome that solidly covers all the basics with a broad tempo range and a rich variety of beats and rhythm patterns. The MA-1 also shows the beat in an innovative way that makes practicing easier. The MA-1 is available in your choice of two-tone color schemes: blue and black, or black and red. With stylish design and reliable functionality, this is an indispensible rhythm training aide for any musician.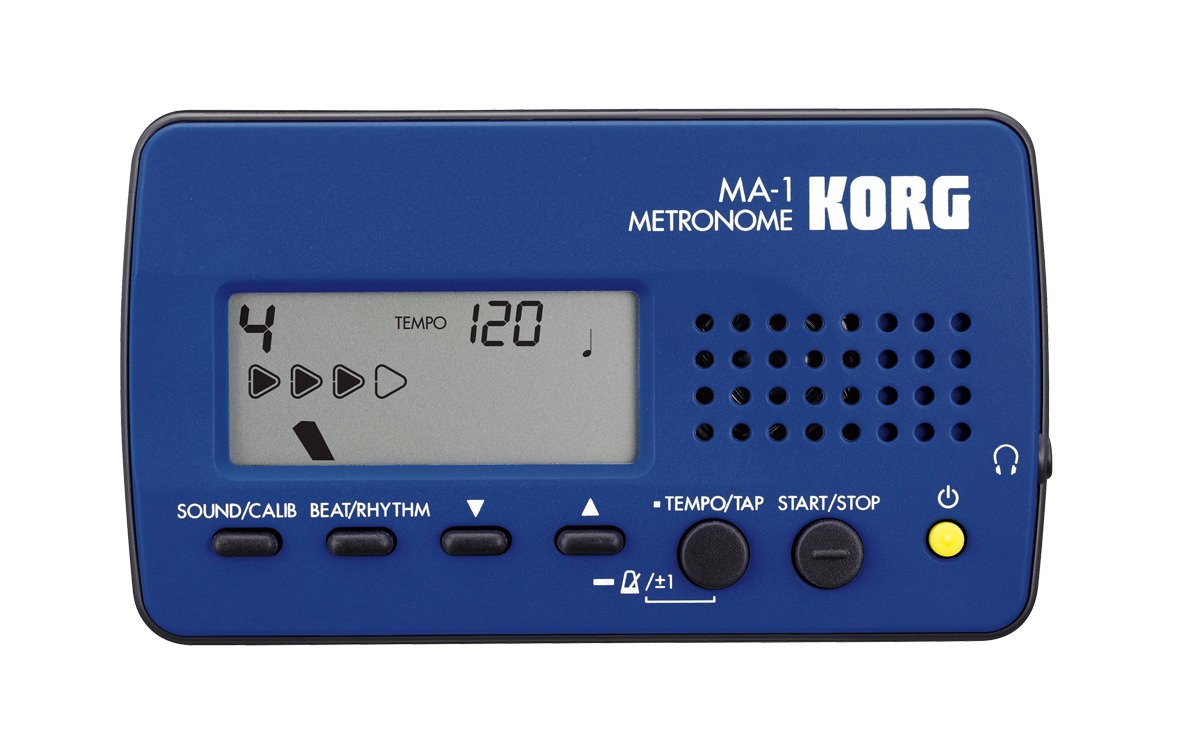 New easy-to-understand beat indication
The number of triangular icons in the display indicates the specified beat. On each beat, the icon color changes from left to right, indicating the current beat of the measure in a way that's intuitively clear. This provides visual cues as to when measures will change – a helpful advance over metronomes that provide only an audible indication.

Versatile Tempo & Rhythm features
The tempo can be set using one of three methods: increase or decrease the tempo using the standard increments familiar from a mechanical metronome (pendulum steps); increase or decrease the tempo in single-step increments over the full range of 30-252 (full steps), or use the Tap Tempo function to enter the tempo by pressing the switch in time with the music.
Practice a wide variety of songs by specifying any beat count from 1 to 9, and choose any one of the eight rhythm types: quarter notes, eighth notes, triplets (straight triplets, triplets with inner beat omitted, triplets with the third beat omitted), and sixteenth notes (quadruplets, quadruplets with middle beats omitted, quadruplets with the third and fourth beats omitted).
Doubles as a chromatic tuner!
Sound Out mode produces a reference pitch (selectable over an octave C4-B4) that you can use when tuning nearly any instrument. The frequency of the A4 reference pitch (calibration) can be adjusted in 1 Hz steps over the broad range of 410 Hz to 480 Hz.
Earphone jack for personal use
An earphone output is provided for personal use. The earphone volume can be adjusted to suit for any situation; from private practice in your room to group rehearsal in the studio.
Multi-function compact metronome. Available in two attractive color schemes: blue and black, or black and red
Enhanced display makes it easier to practice your rhythm and phrasing
Choose from two types of tempo steps: pendulum steps or full steps
Tap Tempo function lets you quickly set the desired tempo
Beat display offers from 1 to 9 beats, plus 8 rhythm types to practice any style of music
Tune any instrument using the 12 step (C4 – B4) chromatic reference pitch
Earphone jack with adjustable volume
Memory backup function and auto power-off function
Up to approximately 290 hours of continuous operation